Italia
The Leaping Tower of Pisa (Pt. 4) - Special Brew Budget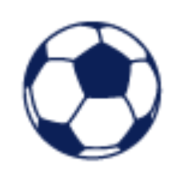 Chris McMenamy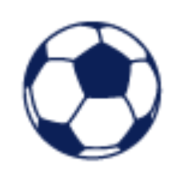 Chris McMenamy
Summer is upon us in Pisa, a city with a Serie A club for the first time in 31 years. Well, in Football Manager. We've got champagne ambitions on a Carlsberg Special Brew budget and we've unnecessarily restricted ourselves to signing Italian players only, but we're going to have fun nonetheless. Realistically, we need four first team players and cover across seven positions to help with our two players per position philosophy.
With £1.5m to spend, signing eleven players is a challenge beyond even the most Moneyball of managers and I am very much not that, choosing to stick with names I know/recognise from old saves, any wonderkid I can loan and a player with a good reputation that's wandered on to the transfer list. It's not quite a scientific approach but it's something; couple that with knowing we need players with great fitness and an Italian passport, this window is going to be an experience.
To make matters worse, pre-season began in late June, now I know how they feel in Scotland. The squad should still be on holiday, not running up and down a pitch in Veneto while their manager is preparing to chop any dead weight earning anything remotely near £10k a week, a figure which is surprisingly common for a second tier Italian side.
Three men are very quickly out the door, defender Maxime Leverbe plus midfielders Marius Marin and Idrissa Touré, generating £5.5m and taking £40k off the weekly wage bill, shortly before my most shameful player sale yet. Yonatan Cohen signed for Pisa last summer, not one of my players, for a whole £2.4m from Maccabi Tel-Aviv and I've no use for him. His weekly £19.75k is a bit of an issue, given he's a number 10 with a very average profile and no discernible game changing ability. So, I've been looking rid of him since arriving at the club. Sell for £2m, take the hit and move on, but no. Yonatan didn't like that, he wanted to stick around and rot in the reserves, a modern day Winston Bogarde. A year later, with my options limited, I manage to offload him back to a club in Israel, for a mere £100k and picking up a small portion of his wages. Amazed not to have been sacked for sanctioning such financial sabotage, I dust myself off and it's time to make some signings of our own.
The first few of our eleven signings are loanees, Udinese 'keeper Manuel Gasparini, Juventus midfielder Filippo Ranocchia and Milan midfielder Tommaso Pobega all in until the end of the season, or until they stop me extending loans for players I'll never afford. Pobega is the best of the bunch, a Serie A standard player who Milan could easily get £10–15m for, someone who'll be needed to beef up those box-to-box roles. Our first permanent signing is Atalanta wing-back Enrico Del Prato on a free transfer, who is able to play on both wings and will likely compete for a starting spot. Then comes former wonderkid Nicolo Armini, the lost sheep of FM20 who will backup Scalvini in that libero role, coming in at around £275k. Our one big spend is funded by the sales mentioned above and it's Cagliari's Alessandro Deiola, a prototype box-to-box to go alongside Pobega, signed for a cool £4m, split out over multiple instalments and clauses, of course.
Pre-season is short, but sweet and disjointed, due to the season starting in late July as the transfer window rages on. A few injuries but nothing major, as the season gets underway with fellow promoted side Monza coming to the Arena Garibaldi to play in front of a sold out 9,500 crowd. A great chance to get points on the board before two tough games against Milan and Lazio, and it starts terribly. Behind inside ten minutes, it's a familiar feeling to the thumping Monza gave us last season. Silvio Berlusconi has Pisa on strings, he hasn't partied like this since the bunga bunga days. Lorenzo Lucca gets us level going into half time, but the second half is bad, like really bad.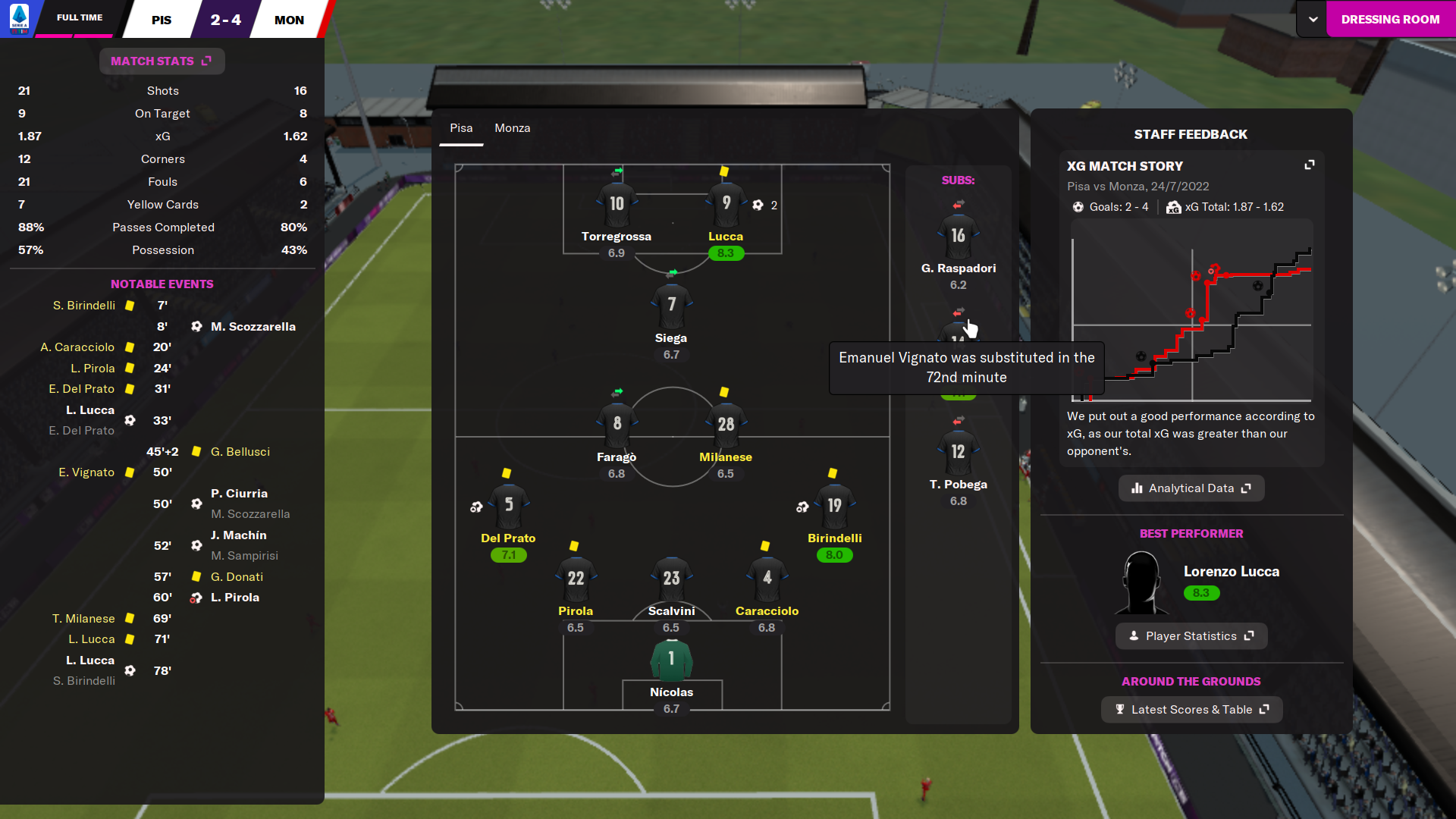 Monza score three in ten minutes and we're 4–1 down before Lucca gets another with the game fading away. We win the xG battle, but lose the game. Perhaps, this Serie A craic is a little more difficult than we thought. Our trip to the capital a week later starts well, we've gone toe-to-toe and it's goalless with five minutes left, then Pedro gets behind our tired defence and gives them the game. Two more follow and it's a grim 3–0, the fraud McMenamy has been found out. It's amazing that it's taken this long. Another loss follows in Milan, before our first points of the season come in a 2–2 draw at home to Torino (after being two down in 20 minutes). A loss at ten man Empoli means we're winless in our first five and I go back to the market in search of a backup striker after Lorenzo Lucca tears his groin again, and a loanee centre back to shore up the defence. Inter's wonderkid striker Sebastiano Esposito arrives on loan with Atalanta's Caleb Okoli, who comes along to tighten things up at the back, thus concluding a busy summer window, but not before facing Napoli at home to end the summer.
In the absence of Lucca, we shuffle things about tactically, avoiding crosses and set pieces as they fail to bear fruit, and it works. Much to my disgust, the set piece-less Pisa smash Napoli 4–2 in a crazy game that will be remembered for the arrival of Giacomo Raspadori as an attacking force. He took charge of this one, scoring either side of half time and creating the chances that led to Pobega's brace to eventually seal our first Serie A win. Maybe this was all for nought? Are set pieces easier in Serie B? Probably, but I'll resign before I abandon them. I just need my Lorenzo back.