Italia
The Leaping Tower of Pisa (Pt. 5)  -  Barry from Eastenders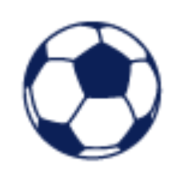 Chris McMenamy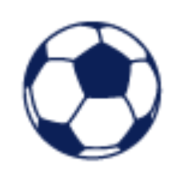 Chris McMenamy
Six games and four points into the new season, Pisa SC are starting to get the hang of this Serie A malarkey, something that's taken a bit longer due to the unnatural format of the season with this winter World Cup. Oh, and the fact the team isn't exactly top flight material, with the exception of our brightest (and in some cases, tallest) lights.
Nevertheless, the wait for a win followed the old cliché of waiting for the bus. Wait long enough and more than one shows up. September starts with a 1–0 win over Cagliari, with the Isolani getting a man sent off in the 91st minute just before Deiola rifles one in three minutes later, just enough separation between the incidents for it to be described as a win over ten-man Cagliari, discrediting our efforts. Typical media bias.
Two more Raspadori-powered wins over Venezia and Bologna follow and the absence of Lorenzo Lucca is being felt nowhere but in two small squares either side of the six yard box. October is unusually busy, seven games crammed in before everyone scoots over to Qatar. Well, not everyone. None of my players are good enough to go, allegedly. Raspadori, a member of Italy's Euro 2020 winning squad, deemed not up to it and no late run for Lorenzo Lucca, Serie B goal machine, so it's a four week holiday in November for the lads. Straight to Ibiza for a mad one.
Among our fixtures this month are Roma, Juventus, Inter and Fiorentina, but first up is a trip to Udine to face Watford's parent club. A bland 2–2 draw brings the mood down after three straight wins, but it keeps our heads above water, which is the aim for this year. Roma up next, now managed by Joachim Low and sitting pretty at the top of the table. With the exception of our last game, Pisa's season has had a trend. Wildly entertaining games for the neutral as I hide my lack of defensive tactical nous by choosing to reject defending as an outdated concept.
That doesn't quite work against Roma, as their quality shines brighter with each passing minute at the Garibaldi, winning 4–3 against a Pisa side that probably don't have enough to play the way they do and be very successful. Nevertheless, not a shameful result or performance and one met with a shrug of the shoulders before checking who's next. Ah yes, Juventus. Away. Love that for me. Max Allegri's 4–4–2 is purpose built kryptonite for this Pisa formation, but you know what we're gonna do? Take it away, Barry from Eastenders. We're gonna do it anyway, we're gonna do it anyway!
The width of Juve, on their wide pitch and with their extra wide players, might cause problems for us, out wide, you know? But in this season of slugfests, we're going to slug it out. Don't give them anything cheap like say, a penalty in the third minute? Nice one, Lorenzo Pirola. Dusan Vlahovic puts them ahead but Caleb Okoli pops up in Lucca's vacated corner space just three minutes later and it's game on. With half time approaching and Juve in control, that boy Vlahovic pops up again, such is his prolific nature.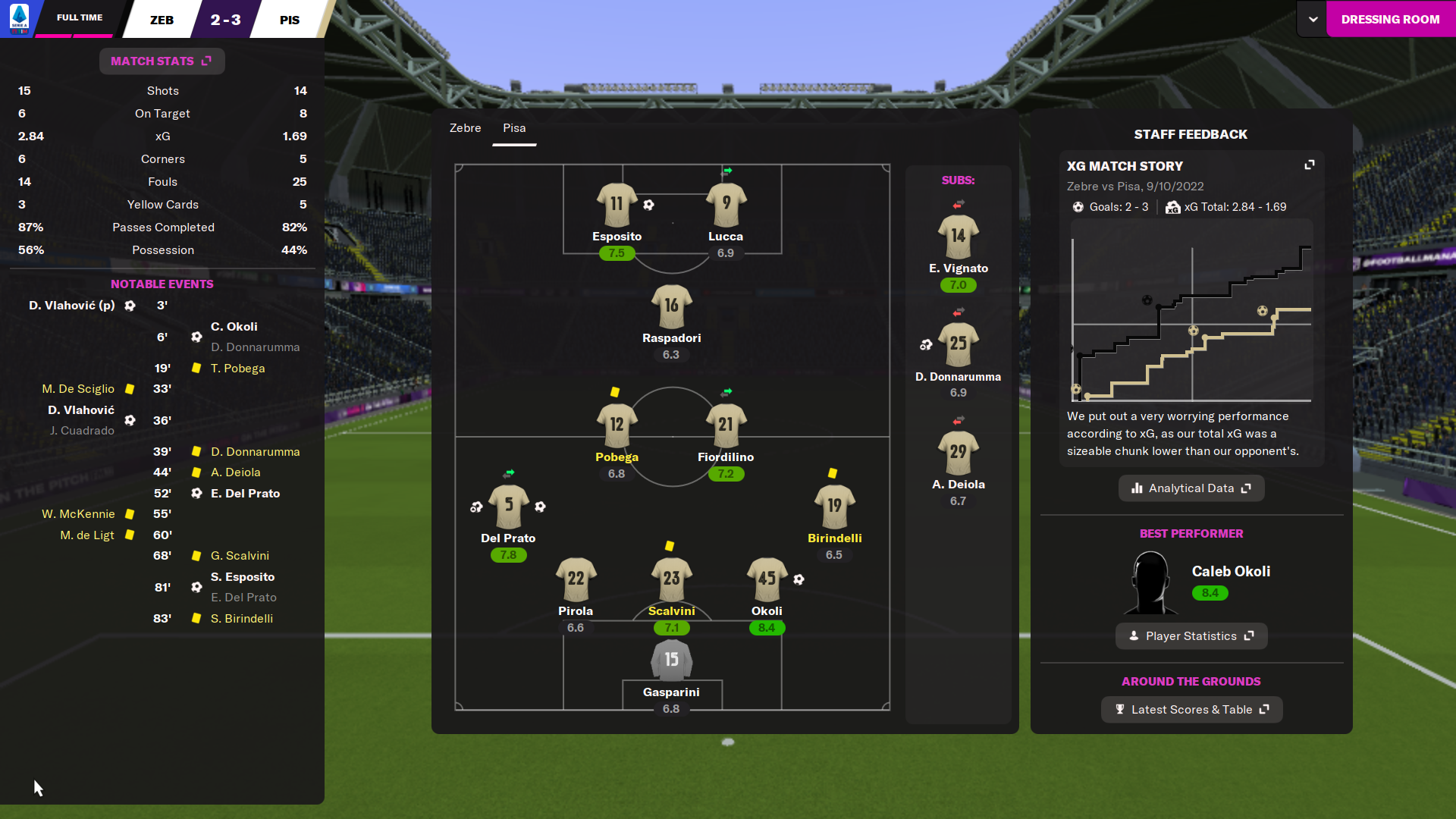 Then, it happens. Del Prato goes rampaging down the left, plays a one-two with Pobega in midfield, before threading a pass that could have parted the Red Sea right onto Sebastiano Esposito's foot. He's in on goal and he doesn't miss, giving us the lead with nine minutes left. Scenes, as they say. Limbs too. If ever there were a time to be a tactical tinkerman, this is not it. So, of course I decided this is the time to shut up shop rather than ride it out. The consequences are almost disastrous, Juve bombarding our box with crosses, shots, flying kitchen sinks, the lot. But we survive to win in Turin. A huge result early in the season, celebrated by me quietly fist pumping at the kitchen table so as not to disturb the neighbours at night.
Lucca's return from injury is perfectly timed. After a cameo against Juve, he appears from the bench in fair Verona at 2–2 and score an 87th minute free kick winner. A man of his size has no right being so technically gifted. Three days later, he intercepts a pass on the edge of the Inter penalty area and gives us a valuable point in another super sub performance, getting his match fitness back slowly. Learned that one the hard way. Two games to go before the winter break and we're sitting pretty in 10th, a home game against Parma and a Tuscan derby in Florence to navigate. Movin' on up.