Italia
The Leaping Tower of Pisa (Pt. 6) - Jackie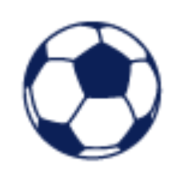 Chris McMenamy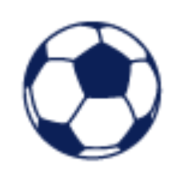 Chris McMenamy
Right, two more games before we all head off on a winter holiday. Sitting comfortably after 14 games with 21 points, Parma's trip to western Tuscany is almost stress free at this point. Lucca's comeback tour continues as Parma fall victim to the near post corner routine twice; his double kicking off a 5–0 win and now the Champions League music is faintly playing in my head. Let's not get ahead of ourselves here, but on current form, we might just win the bloody league.
Fiorentina is a chance for us to go into the break with almost enough points to keep us up, even if we decided to lose 20 games after Christmas. With Lucca back in full flow, but our corner specialist Daniele Donnarumma out injured, it's looking like we might have to play some beautiful football instead of Luccaball. Actually, that's unfair, Luccaball is beautiful in its own right.
The first half of the derby is woeful, minus an early Fiorentina red card. 0–0 at half time, the Tuscan bragging rights are going to nobody. Maybe we should give them to Empoli as punishment for how terrible this match has been. I reluctantly press the space bar to start the second half, anticipating boredom but I'm greeted by a highlight almost instantly. Six passes from Lucca's kick off and the ball returns to him, 40 yards out and near the right touchline and, naturally, our biggest of big men floats a delightful ball over the top for Raspadori to run onto and place into the top corner. I shuffle forward in my chair, my interest piqued and that Champions League music is starting to blare, disrupting my internal monologue.
Two minutes later, Lucca doubles the lead and then sets Raspadori up for one. 3–0 and Fiorentina are crumbling, perhaps time to take the foot off the pedal and see this through? God, no. Fiorentina's 'keeper kills any hope of a comeback with an errant punt upfield, met with a volley from Pobega that needs to be seen to be believed. At least 35, maybe 40 yards as Dragowski helplessly scrambles back to goal. We score again before Fiorentina pull one back and the last ten minutes is wild, we score another three goals to win 8–1. Yep, 8–1 away from home, with an xG of 2.69 and not a single goal from a corner. It almost feels sacrilegious.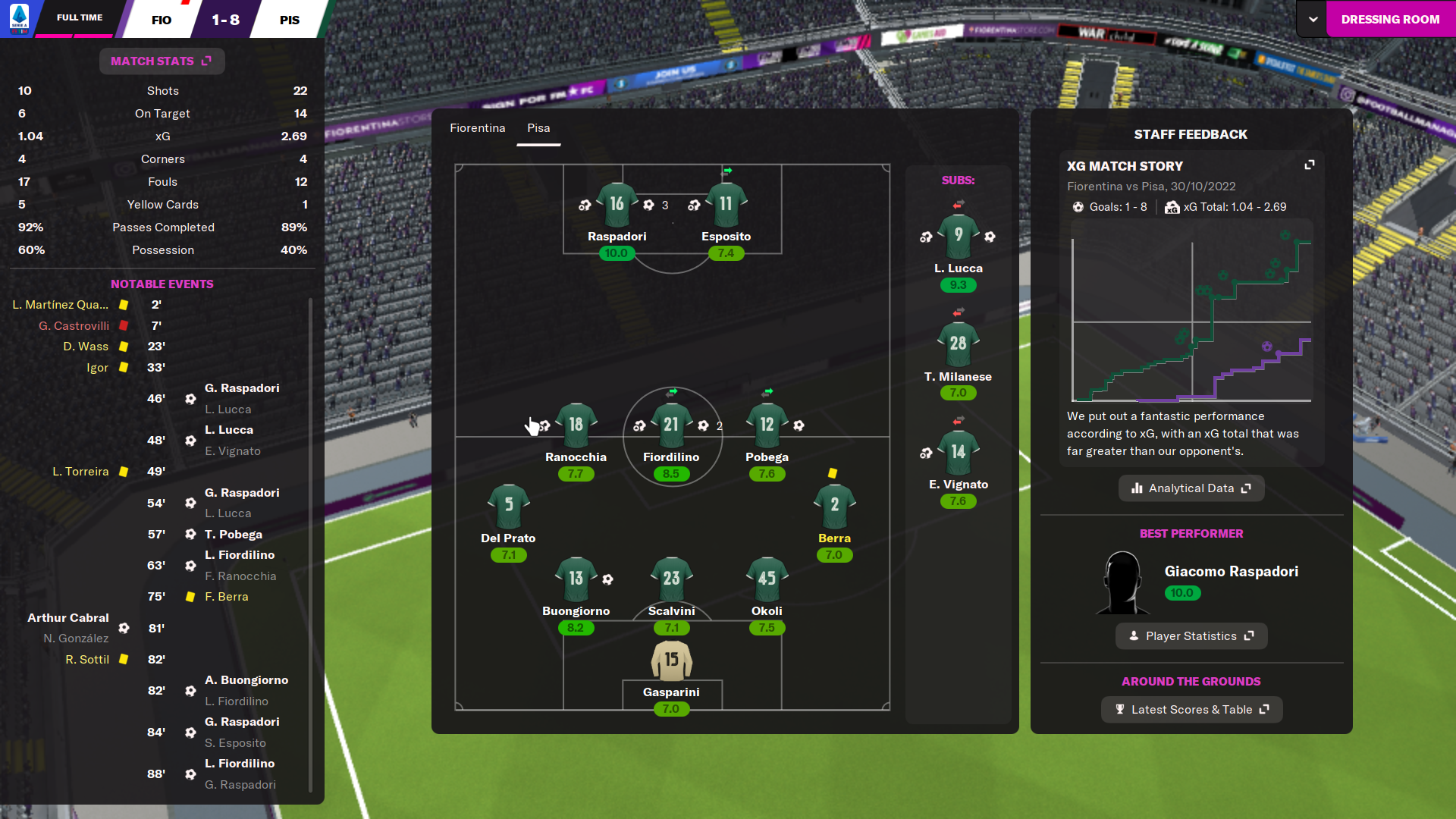 The winter break passes quickly because I put myself on holiday until we returned to training, in early December. My holiday consisted of me making dinner and putting the washing out. Exotic, I know. I kept one eye on the silly World Cup where silliness had, in fact, occurred. England finished bottom of their group, Scotland won a group that included France and Argentina, with Italy beaten 1–0 by Brazil in the final. Perhaps a very tall goalscorer might have helped their cause? No, I'm not bitter.
Our first game back after the break is in Bergamo, where Atalanta beat us 4–2. To be expected and we get the chance to make up for it when Sassuolo come to Pisa; but they thump us 3–0. Maybe the break came at the wrong time. It's a three game week, with a trip to Sampdoria providing a decent opportunity for some points. We lose 3–2 in a very team-that-looked-good-but-might-be-flash-in-the-pan performance and those 27 points pre-World Cup are looking more valuable as the games go on.
One major triumph in January is the sale of George Puscas, who you might remember as the unwanted loanee striker I was obliged to sign upon promotion having made five whole appearances. Puscas was offloaded to Monterrey for £750k, a loss of £1.3m but a fair price for salvation from a useless forward.
That made space for our one piece of business in the January sales, an out-of-favour Genoa midfielder with an unremarkable CV and an average profile, save for two things. Free kick taking (16) and corners (17). Ladies and gentlemen, I present to you, Giacomo Calò. Signed on loan but with his contract expiring in the summer, we've got him permanently. Smart bit of business or giving up a spot in the team for football's equivalent of special teams? Who knows, but his corners are good and Lucca is a big boy, as we know. Jackie is the ace up our sleeve. He might not look like much, but he can paint the Last Supper with a dead ball.
Our only win in January came at Monza, revenge for embarrassing us on the opening day, but February starts off in the same vein as January. 3–1 up at home to Milan with 15 to go, I decide not to park the bus and it proves costly. The players get tired and Milan score three times, including a last minute winner. I watched on, realising I had completely fucked that up but felt powerless to stop it, other than launching my laptop through the bedroom window. Rather than make that expensive mistake, we plough on to play Empoli and draw 1–1 in a bleak encounter. Three more winless games followed before a big game at home Udinese, needing to stop the rot as we slipped down the table. Udinese are shite, but we make them look like 1970 Brazil, going 3–0 down in 49 minutes and making me wonder what the point of this was.
The dice are thrown, changes made, nothing working until the 82nd minute when a likely hero arrived at the back post to nod down and in. 3–1, ten or so minute left. A few minutes later, that same hero gets to the end of a long ball and is almost scythed down by a Udinese defender but stays on his feet to score. 3–2, we couldn't, could we? The board goes up, four minutes and that's the signal for Alessandro Buongiorno, the left sided centre back to get upfield and play a pass to no-one, or so we thought. Lucca arrives, beats the goalkeeper and completes the comeback. Pandemonium ensues, of course it's still not a win but give me a break, would you? One win in twelve games sounds bad and it is, but five draws help take the edge off such a stat.
Only two games in March, Roma away and Juve at home, so make that one win in fourteen. Make it fifteen if you want to add the Inter game at the start of April. It's not quite time to panic but we are slowly reaching that stage.