Italia
The Leaping Tower of Pisa (Pt. 11) - Like Butter on Toast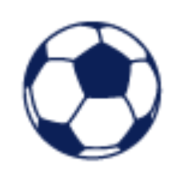 Chris McMenamy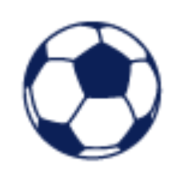 Chris McMenamy
A league season is only supposed to be 38 games long, so why does it feel like we're entering our third season of the season and it's only February? You know what I mean? No, neither do I, really. The first 10 games of this season were nightmarish, the stats said top six but the results said relegation fodder and we looked destined to become another victim of the football hipster's 'favourite' side, due to what we'll call a misunderstanding between performances and results.
The second period of the season between November and January was a whirlwind. 13 games, 9 wins, 1 draw, 3 losses. The sort of form that would put you on the verge of a title challenge, but we were 8th due to the head start we gave the rest of the division. What was the difference between these two mini-seasons? Other than results and shipping Gollini off to Germany, the only difference was the results. We looked like two different teams in the results column, but really it was the same players doing the same things.
Now, with 15 games to go and a shiny new wing back, Pisa are ready for a frontal assault on the top six. A month that begins in Bergamo and ends in Milan could be make or break as we sit on the precipice of an European adventure, with the fixtures easing up slightly in March and April.
This season has seen the introduction of a new tactic for away games, brought about due to the extra width on offer at other grounds. Our traditional 3–5–2 is built for our home ground, narrow enough that our entire XI could fit in a decently sized alleyway. Playing like this on the road hasn't been successful, as we take a hammering out wide. Our new and improved set up away from home? Yep, you guessed it. A marginally different 3-5–2. Essentially, the home tactic but make it wider, spread it like butter on toast.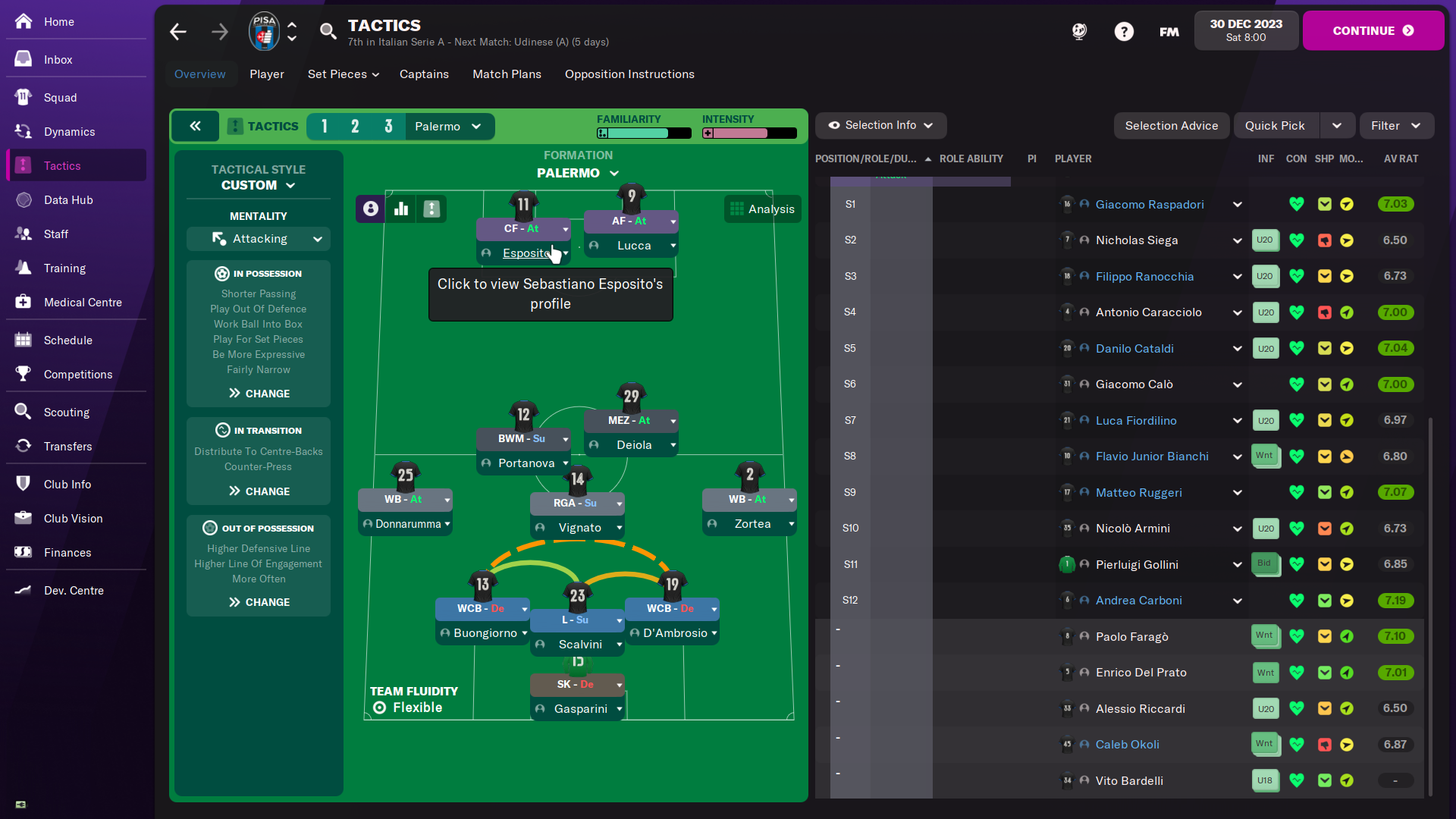 The wing backs sit wider, the back three remains solid with two WCBs and the midfield is compacted with a regista in front of the back three, a ball-winner to disrupt and a mezzala to dominate the half-spaces. Shorten the passing, lower the tempo slightly and work the wing-backs; fight exploitation with exploitation.
Atalanta, the inspiration for the 3–5–2, are the first to face the new and improved travelling Pisa band. And improved we are, winning 5–0 with four of the goals coming from the wide areas (the other a corner, naturally). Three days later, Lazio befall the same fate but in a very different way. In what might be the greatest self-sabotaging performance in FM history, Lazio give the ball away on the edge of their own box in the first minute, letting Lucca play in Esposito for an easy one at the back post. Shortly after, their 'keeper goes walkabout at a free kick and Scalvini heads into an empty net. Next, they give the ball away again and Manolo Portanova rattles one in from 20 yards before Lazio have a man sent off. A comedy of errors in less than 40 minutes of football, astounding stuff.
The game ends 4–0 and Lazio manage to get another man sent off in the dying embers. Nine goals in three days and I have anointed myself as the tactical king, fully expecting a Jonathan Wilson book written in my name. At the very least, a tactics podcast or ten. Nine goals and none for Lorenzo Lucca, who you should know by now is the entire point of this series; although I'm sure he's happy for the team etc, etc.
Now it's time for two home games, Lecce and Juventus. Poor Lecce, catching us on this sort of form; they could consider themselves lucky they only lost 3–0. A Raspadori double and a Lucca tap-in was too much for a side battling relegation, as we moved into the top six for the first time. Pep Guardiola's Juventus should prove much more of a stern test, although they've only beaten us once in the three games since we entered the division. They're 2nd, well in the title race with Milan but their form is indifferent, at least for a side of such grandeur.
The game is typically Pisa; when we're good, we're good. Thankfully, this is a good period and we're cruising into a 4–0 lead before half-time, two goals from Lucca taking him to the cusp of 20 Serie A goals this season. The second half is pretty dead until, in true Pisa form, we concede a nothing goal as the game ends. Still, thumping Juve 4–1 is always lovely. A trip to the San Siro to face the leaders awaits, we're in a great mood and we've got a lovely little away tactic to fall back on.
Milan away starts as you'd expect, with our new setup pushed to the brink for 45 minutes but we're still level. Have we created much? Not even a shot on goal, our xG looking like a good price for a Freddo. I tell the players to keep up the good work in the hope that, at some point, we might nick a goal. However, the game has other plans for me and we're quickly behind. One becomes two as quickly as I totally switch things up in the hope of getting back into it but we're not even second best today. Sexy old Frenchman Olivier Giroud comes on and scores twice in injury time as Milan fully take the piss; just enough to suck out all the optimism from our run of four wins.
Maybe we are a mid-table side after all, which isn't something to be ashamed of but the faint promise of more made us want more. The final ten fixtures aren't anywhere near as tough as this month, with Roma and Napoli away the pick of the bunch. We've got Inter in there as well, but they're 12th now so they're probably quite shit. Famous last words and all that.