Italia
Genoa: La Superba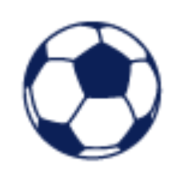 Chris McMenamy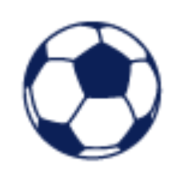 Chris McMenamy
Warning. This won't be an insightful football article. Genoa's stressful and impossibly atmospheric 2-1 victory over Ascoli to achieve promotion at Stadio Luigi Ferraris is unlike anything I've seen in my footballing life.
The game itself was a nervy battle, none of its three goals worth writing home about, but the day as a spectacle was something I'll remember for the rest of my days.
All I can think to tell you is the experience of finding myself among a mix of ultras, teenagers, lifelong Genoa sufferers/fans and everything in between. This was no normal football tourist experience.
The Marassi, as the stadium is also known, is a very 'English' stadium; where its four enclosed walls maintain a level of noise that makes them a decent imitation of their 'twin' club, Boca Juniors. That architecture, combined with the frenzied Italian supporter style and the occasion to create a bearpit of an atmosphere.
Having made our way across town, we now find ourselves at the gates of the Gradinata Sud, where I managed to bag two of the last tickets. Normally home to Sampdoria's ultras, but when Genoa play here it is teeming with a band of vibrant, young Grifoni with megaphones and one request: "Vogliamo vincere". We want to win.
The Gradinata Sud is a maze, where the seat numbers have been mixed up and half the seats have been broken, so we are told to sit wherever we please. I find myself beside a truly hospitable Genovese man, Danilo, who finds it equally perplexing and hilarious, the idea that someone might come from Ireland and find themselves watching Genoa on a Saturday afternoon.
Before long, a teenage girl in the row in front turns to ask my other half where we were from, undoubtedly putting to use the impressive English she has learned. Where the sharp accent may have failed, our pale skin and lack of rossoblù clothing helps us to stand out.
One hour from kick off and both Gradinate (stands behind the goals) are quickly filling up. A sell-out, Genoa had even withdrawn some away tickets to make room for their own, along with the two tourists.
Almost 35,000 crammed into this squared coliseum, standing on their seats, presumably for the lack of space on the gangways.
As the players run out to warm up, flags fly at both ends and a particularly keen ultra duo, both no older than 20, direct us to sing various anti-Sampdoria songs and proclaim our love for a football club I'd only met fifteen minutes ago. Moving fast, I know, but it's hard to say no to the guy with the megaphone.
The sensory overload is complete by kick-off as You'll Never Walk Alone plays, before a huge tifo passes down the Gradinata and confetti is lobbed down from the top tier, all while flares billow smoke into the hot - by my standards - Genovese afternoon and the megaphone lad shouts at us.
The sense of occasion is not lost amid the chaos, as Genoa know that a win and a Bari draw/loss will see them promoted with two games to spare.
However, it is easy to forget about the twenty-two men on the pitch as the game kicks off. The history and pageantry, along with the ultras directing the choir, all combine to remind me of the church just behind Piazza de Ferrari that we'd visited that morning.
Ornate gold ceilings and 16th century art give way to flags and flares, the priest replaced by a young lad with a megaphone, but the idea is the same. We're here to celebrate and worship.
Ascoli keep the ball well but fail to threaten much before Mattia Bani gives Genoa the lead from a corner after sixteen minutes. Predictably, the place erupts.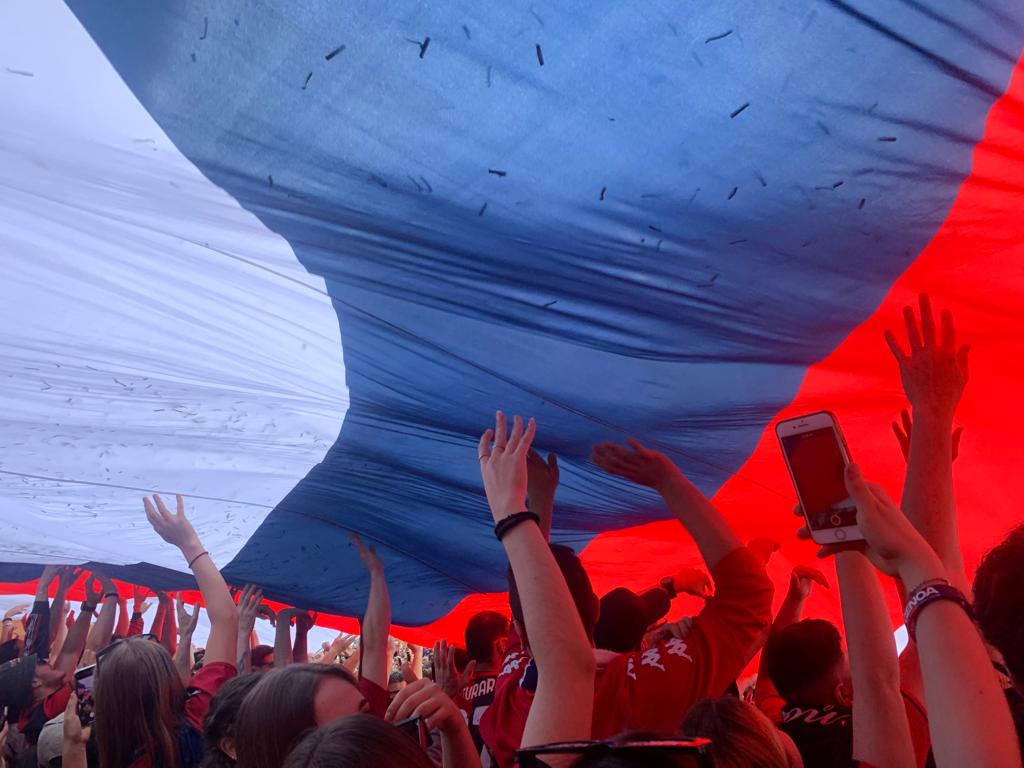 "Ho visto il grande Genoa!" cry the home fans, in a song about telling their mother they're in love because they've seen Genoa play.
The pyrotechnics intensify as the half continues, everything from smoke bombs to exotic cigarettes, if you will, filling the air. Basically, anything the Genoa fans can get their hands on.
As half-time approaches, news from Modena. Bari have taken the lead and the mood inside the Marassi takes a hit. Nevertheless, it's only a goal. Plenty of time, no need to worry. At least Genoa are winning and 'Sarà perché ti amo' is getting another run out, the stadium DJ inviting the crowd to join in with yet another timeless hit that has been reconstructed by the masses to insult their stadium-mates, Sampdoria.
At this point, it's fair to say that us two Irish tourists in the Gradinata Sud are now emotionally invested in Genoa's success. I've got notifications for the Bari game on my phone and my new mate, Danilo, is appreciative of the updates, even if I am the bearer of bad news.
The second half follows the pattern as the first. Lots of huff and puff but lacking in quality. Genoa are the better side, but the occasion is playing its role well; each stray pass and wrong decision inviting a collective groan from all four corners of the ground. That is until a Kevin Strootman free-kick eventually finds Milan Badelj at the back post, who confidently slots home.
As you can imagine, the entire stadium descends into a jungle of shouting, smoke, drums and more shouting after the Badelj goal. Genoa win a penalty only two minutes later and it starts to feel like this one is done. Nicola Leali, the Ascoli 'keeper who gave the penalty away, saves Massimo Coda's poor effort and it stays 2-0. Ah well, not to worry. Right?
Just as we had all convinced ourselves that the penalty miss only serves to delay a Genoa third, Ascoli break away and score. Ah, here we go. Danilo looks at me with a glare that every football fan knows. The sporting deities have just flicked the switch from party mode to squeaky bum time.
"For Genoa, we must always suffer," he says. I explain to him that I spend my weekends watching Leeds United. This is nothing, you'll be fine.
The inevitable panic starts to settle in as Ascoli go close to a second and Genoa show no sign of taking control of this game. Josep Martinez looks a little green in the Genoa goal, which isn't helping. He seems the sort of goalkeeper that could make a top class save moments before punching a cross into his own net.
Danilo isn't convinced by him, wincing every time the ball comes near the Genoa goal. Little over a quarter of an hour to go, but it feels like we are hours away from the end. Then, the kids in front of us begin to huddle over their phones. There's a penalty in Modena.
But which way has it gone?! Sorry, always wanted to do that. Modena's Davide Diaw has just levelled, meaning that Genoa are Serie A bound, as it stands. The news filters slowly, then altogether very quickly and the place is erupting again.
"Bari, Bari, vaffanculo," rings out around the Marassi and even the most oblivious of Genoa players must know what has happened. It's almost worth another goal, to borrow a classic football cliché.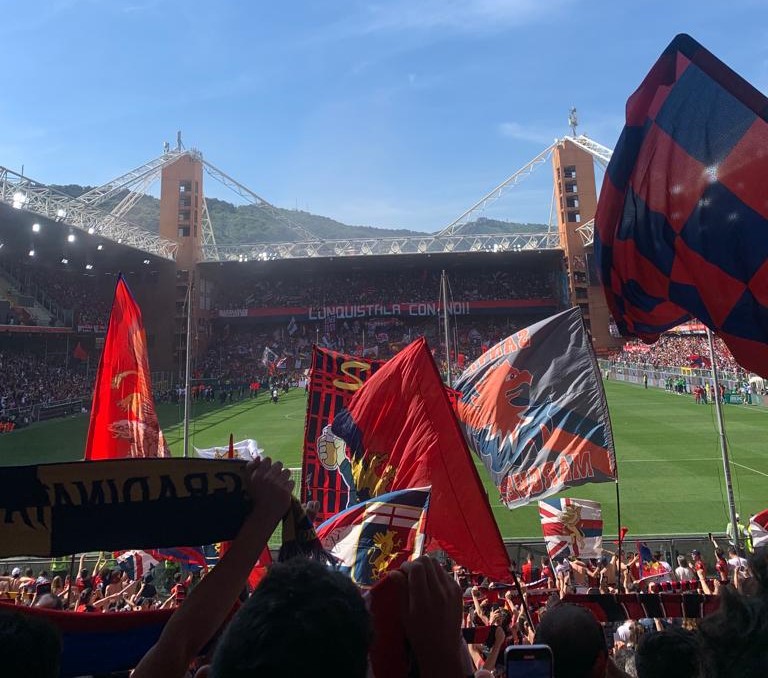 The goal seems to have prompted a couple of Genoa changes, as they seek to shut this game down. Caleb Ekuban replaces Coda to freshen the attack. Ten to go. Bari are stuttering in Emilia-Romagna, now Genoa just need to hold their nerve.
The megaphone wielding ultras are still going, playing the priest role, instructing the flock. Hand in the air, sing, clap, put your hands down, now jump, clap, sing. Too bad they're not handing out bread and wine, it's got to be 25 degrees here. I'm sweltered and thirsty. Nevertheless, vogliamo vincere!
The final act of the match is more frenzied in the stands than on the pitch, however. Genoa have dug in deep, and Ascoli lack the bite in attack to do any real damage. It doesn't matter, as most of the fans are distracted in one way or another. Some are too nervous to watch, others are singing, waving flags or lighting flares while many more huddle around phones for news of the Bari match.
Ekuban nearly scores in injury-time and I'm convinced less than half the ground saw it. As time expires at the Marassi and Genoa have won, all attention goes to Modena. How long is left? Nobody can be sure. Those watching on video are behind, the scores apps aren't always up to speed. This is a time when a radio would come in handy.
We know there's four minutes added on, and that time is almost up. The tension gives way to that inquisitive madness that takes over in these situations. Thirty seconds feels like an eternity when you can't see the pivotal event unfold in front of you. Can I trust the kid in front of me getting score updates from their uncle? Some people are cheering but I can't see definitive evidence, how can I possibly let loose?
Just as the first wave of cheers echo out, my phone buzzes: "FT: Modena 1-1 Bari". That's it, it's done. Genoa are back in Serie A at the first attempt. Danilo and I share a congratulatory handshake. I've only been here for two hours, not the entire lifetimes of most of those in rossoblù, but I feel like I've been part of something.
This isn't my party but it's fun to join in, especially when nobody is gatekeeping the fun. Watching on as the thousands hug, laugh, cry, kiss, drum, sing and everything in between, this is what football is about. It's supposed to be fun, with adversity and sadness thrown in to make it worthwhile.
The adopted hymn of Genoa, Bresh's 'Guasto d'Amore' rings out for the first time after the news has broken through, and it gets a proper rendition. The entirety of the fans' songbook makes the playlist as the celebrations begin and the players begin the longest lap of honour ever, soaking up the love from each section.
The speeches are short and sweet, with (I think) Milan Badelj managing to quieten the crowd so he can speak, before head coach Alberto Gilardino addresses his Grifoni. Danilo, his family and us two tourists make our way out of the stadium to toast Genoa's promotion with a cold pint, before heading off into a balmy Saturday evening. We set off to do other touristy things, like gaze at the countless beautiful buildings and eat pesto, as one must in Genoa.
The players and fans are celebrating in town, while we're making our way through our umpteenth round of delicious carbs, before we end up wandering into the promotion afterparty at Piazza de Ferrari. A crowd of Genoa fans are partying in the square, accompanied by ultras with flags standing on the back of milk trucks, setting off fireworks, flares and smoke bombs as they sing about their beloved club. The crowd slowly dies down, with folks heading towards bars and/or metro stations.
Words could never do justice to the scenes in Genoa as the Grifone returned to Serie A. It was a festival of colour, a celebration of the joy that football exists to provide. Walk around the city and you can understand why the Genovese are proud to call it home. It's a Serie A city, that's for sure, and something tells me the imminent relegation of Sampdoria to Serie B (at least) should provide an unnecessary but welcome spark to the Genoa party that will surely carry on for a few more weeks.